Mobile Blackjack
Mobile Casino Blackjack 21 - Play for Real Money
Many people are already familiar with online casinos which include games like blackjack, slots and poker. The newest addition to the scene is mobile gambling and mobile blackjack. Basically, these are games that can be played for real money on just about any mobile device. In fact, CasinoMax, Cherry Jackpot, and any of the casinos displayed in the banners throughout the site - supports nearly 10,000 devices ranging from cell phones, iphones, Android, Blackberry, iTouch and many more (also play on a laptop or desktop PC if you prefer). On top of this, there is no download required. I made a list of the many major compatible devices. Check out the casinos themselves to view their constantly updating list of compatible phones.
List of compatible devices for mobile casino and blackjack

| | | | | |
| --- | --- | --- | --- | --- |
| Amoi | Android | Apple | Asus | BenQ-Siemens |
| BenQ | Bird | Blackberry | Dopod | Fly |
| HTC | HUAWEI | I-mate | LG | Lenovo |
| Motorola | MyWay | Nokia | O2 | Orange |
| Palm | Panasonic | Pantech | Qtek | Sagem |
| Samsung | Sanyo | Sharp | Siemens | Sony Ericsson |
| T-Mobile | Toshiba | Vodafone | ZTE | (*MANY MORE*) |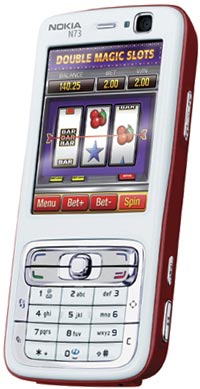 Blackjack is obviously one of the most popular casino games in existence, so this is certainly included as a game offered for playing. Although, there are some limitations to how many games can be played on a mobile phone. The #1 reason is the fact that the screen is just too small to play many of the larger and more complex games like craps, unless the iPad becomes a big success. There are games like baccarat, 3 card poker, roulette, video poker, progressive slots, scratch cards and really basic ones.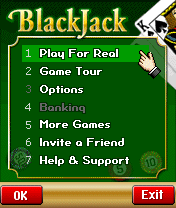 All of these games can be played for real money or you can just play them for free like many of the old mobile casino games in the old days. In fact, there are very few companies that have actual gambling in mobile devices. The blackjack 21 game and the others are powered by the Microgaming platform, which you may have heard about if you have played using the normal software on a PC or laptop computer. Microgaming is one of the most reputable and highly popular casino software in the world with absolutely fair game play.
If you were wondering about what kind of blackjack is being offered, it is very similar to single deck Vegas blackjack. The mobile game uses a single standard deck of 52 cards, which is shuffled after every round (instant shuffling by the computer dealer of course!). If you have read about the rules and over 100 articles about blackjack on this website, basically the goal is to be dealt a score that beats the dealer without going over 21. If you get a 21 by the addition of multiple cards or with the first two cards (which is a natural blackjack), then you win unless the dealer ties. The points are equal to the numbers on the cards. All face cards, including Jack, Queen and King count as 10 points and the ace counts as both 1 or 11, which you can use interchangeably at any time.
When playing blackjack, knowing that all face cards count as 10 points is actually paramount and fundamental to blackjack strategy, which you can read about here. Just assume that the dealer will deal more 10's out than any other individual cards. Also use our charts to figure out the correct moves to make according to the best mathematical odds as well.
That is about all there is to it with mobile blackjack. So if you were looking for something like this, you can get the software at CasinoMax or Cherry Jackpot. Also, there are about 25 other games to play as well and the list is always growing.