Barry Meadow
Barry Meadow's Blackjack Profile and Bio
One of the famous professionals of blackjack is Barry Meadow, who is also involved in professional gambling, horse race betting, handicapper and writing books about gambling subject. He also became a writer for a sitcom, played in the tennis circuit, operated as a publisher, a journalist and did standup comedy as a comedian. In fact, Barry has more than 30 years of experience as a gambler and is still making money doing what he loves. Meadow is also a veteran who fought in the Vietnam War and has had a colorful, exciting history and biography.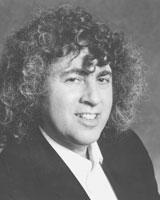 Horse Racing and Harness Races - Books and Gambling
Barry Meadow was certainly known for blackjack but even more for his experience in horse racing and writing books about it. He wrote his first book in 1967 called "Success at the Harness Races". He made some money from the book but also started to become a handicapper and become an editor for a racing magazine to make even more money. His contributions spread to many various publications including a topic about mule racing in Sports Illustrated.
After about a decade or so, Barry started to become a full-time professional gambler in Las Alamitos, California. Of course he would be betting at the harness races, which was his specialty. This happened in a 5 year streak during the 1980s where he gained a tremendous amount of knowledge about harness racing. So he started up his own business called TR Publishing, where he could write some more books. It all seemed fitting just for him and his knowledge of racing and writing as an author. On top of this, he also wrote the weekly "Trot Report" based in California.
1987 was the year he wrote his famous book "Professional Harness Betting". This was one of Barry Meadow's finest works and the book became popular around the world. The book was also centered around his previous 5-year streak of full-time harness racing and gambling, sort of like a journal or diary of what tips and tricks he learned about as a professional of the sport.
A year later in 1988, the next book was written "Money Secrets at the Racetrack" and this book was related to money management, odds and overlays. It was very helpful for handicappers and contained a lot of technical advice. Some of the topics included strategy or when to make certain bets. During the same year, he also created Master Win Ratings, which was a type of rating system based on horse breeds and power rankings for California.
In 1994, Meadow wrote a book called "Secrets of Pick 6", which is actually more like a booklet because it was a smaller 43-page work. Basically, it was a short and valuable guide on the big payout bets. Another handy booklet Barry wrote about was called "Player's Guide to Nevada Racebooks" around 1999/2000. Meadow went to all the racebooks in Nevada and picked out the gems or best ideas and consolidated it all into a booklet, including tips on special practices, rules, cash rebates and free daily racing forms. All of this took a lot of time and work but became very valuable for players who were serious about gambling in this sport. In fact, Barry himself won $100,000 two different times using the information in his books.
Barry Meadow's Horse Racing Books in Chronological Order:
Success at the Harness Races - 1967
Professional Harness Betting - 1987
Money Secrets at the Racetrack - 1988
Secrets of the Pick 6 - 1994
Player's Guide to Nevada Racebooks - 1999
During a period between 1996 and 2003, a publication known as "Meadow's Racing Monthly" was written by Barry. He won awards for this guide because of how detailed and valuable the information was. Many of his articles were very helpful on the subject of handicapping, statistics and research, investigations, money management, betting tips and lots of other horse racing information valuable for gamblers and fans.
Professional Blackjack - Books and Gambling Story
It wasn't until about 1999 when Barry Meadow started to really get into blackjack. In fact, 1999 was the year when he wrote his first blackjack book called "Blackjack Autumn" where he writes documents his 2-month streak of gambling and playing blackjack at all the casinos in Nevada. Literally, he went to Las Vegas and played at all the casinos there and even at small truck stops. This book also included humorous information about what kinds of comps he earned, strange locations for gambling and various people he met on his journey. He also used $8000 and a type of pocket recorder for blackjack.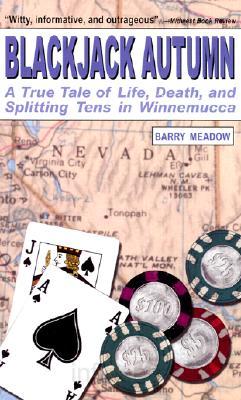 One of the more recent booklets he created was a 65-page guide called "Crushing the Internet Casinos" written in 2003. This was a time when online gambling and blackjack became very popular and a guide became valuable for professional gamblers and just the average person who wanted to play casino games over the internet. This booklet carefully went through some of the basics such as finding reputable casinos, signing up for an account, the concepts of bonuses, watching out for scams, depositing and withdrawing money over the internet and comp points.
Other Blackjack and Gambling Books by Barry Meadow:
Blackjack Autumn: A True Tale of Life, Death, and Splitting Tens in Winnemucca - 1999
Crushing the Internet Casinos - 2003
Other notable events in the life of Barry Meadow
One of the most interested facts about the man is that he also played professional tennis some time back in India. He also wrote for a few sitcoms and Television shows and even did stand-up comedy. As you can see, Barry was both creative, intelligent and had some good character traits. Other notable and more recent events regarding Barry Meadow was his appearance on a 2007 documentary titled "Players: Blue Collar Gambler". His celebrity status as a gambler and as an author who left a mark on the gambling world community, he was given an entry into "The Ultimate Blackjack Tour" where many famous players appeared and played blackjack on Live TV. Finally, if you would like to read more about his books and booklets or purchase them, you can visit his very own personal website at TR Publishing for additional information.