Ken Smith
Ken Smith - Professional Blackjack Player and Author
Ken Smith is known throughout the world as an avid blackjack player who appeared in the World Series of Blackjack in all the times that it aired on television. Ken is also well known for this book and his experience in blackjack tournaments as well. He also runs his own blackjack related website and discussion forum online.
Ken was born in Mississippi on November 16, 1964. Blackjack was one card game that he was very interested in at a young age and he became dedicated to how the game is played and gained much experience over the years. It was not until around the early 1990's did he become very active in the game when the state of Mississippi (United States) began to legalize blackjack and other casino games.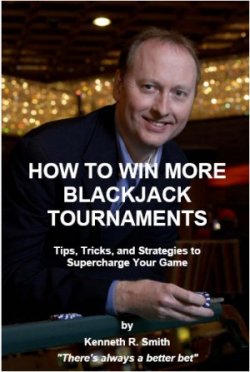 Ken and his history of professional blackjack tournaments
1994 was the year that Ken entered his first entered blackjack tournaments and he has been hooked on it ever since and competed in thousands more tournaments. Some of his most popular appearances did not happen until 2004 or ten years after Smith played in his first tournament. Game Show Network (GSN) aired the first season of the World Series of Blackjack (WSB), which was sort of a spin-off of the more popular World Series of Poker (WSOP). This was his first appearance in a live televised blackjack event and tournament.
Unfortunately, the World Series of Blackjack only aired for 4 seasons and ended in 2007 but there are rumors that the series may return due to demand and popularity. Ken Smith also appeared in other professional tournaments such as the second season of Million Dollar Blackjack Tournament, which was aired on the Travel Channel. Ken came very close to winning this one as he came just one hand away from moving on to the final table where the winner of the last 7 players would have won a million bucks.
Another one of the major tournaments that Smith participated in was the Ultimate Blackjack Tour (UBT), which aired on CBS in 2006. During the premiere broadcast of the show, Ken won a $50,000 prize for winning the event in first place. Unfortunately, the blackjack tour was canceled due to the notorious grey-area legislation passed in 2006 that forced the show to shut down. Ken has continued to play in tournaments and has finished over 30 times in first place.
Smith as an expert strategy writer and author of blackjack books
After winning so often in tournaments and proving himself a legendary blackjack player, he earned a great reputation as an expert of blackjack tournament strategy. One book that he wrote about is called: "How to Win More Blackjack Tournaments". This book includes tips for players of all levels of experience from beginners and novices to experts and advanced players. As a professional player himself, Ken knows the game inside and out. Other content in this book includes his most popular magazine articles and writings that have not even been printed before so there are a lot of hidden gems in this book.
Ken is also a writer for multiple blackjack magazines such as "Blackjack Confidential" and "All In Blackjack". Other sources of his most current writings include a newsletter known as "Blackjack Insider", which is published on a monthly basis in Henry Tamburin's email newsletter. For more information about signing up for these newsletters or learning more about Ken Smith, visit his very own website at: blackjackinfo.com. You can also chat with the man himself at his message board where many other professional blackjack players hang out at: blackjackinfo.com Discussion Forum.
Ken's other work and informational sources
Ken started up his own company called Bayview Strategies LLC, which was used for game consulting and development of his other websites. Ken used to write pages for his own website in 1996 but later on he created blackjackinfo.com, one of the most popular blackjack sites on the internet today. His sister site has information about tournaments at blackjacktournaments.com. He once developed a site for slots at slotcharts.com but it had to be shut down due to the 2006 anti-gaming legislation unfortunately... Finally, Ken is still running his very own personal blog at Sweet Tea, No Lemon, which is non-blackjack related.
Currently, Ken resides with his family in Hattiesburg Mississippi. Personally, Smith has a reputation on the internet for being a very intelligent and friendly guy. He enjoys playing guitar as a classical guitarist and gazing at the stars as an astronomer. Some of his favorite books are "Lord of the Rings" and "A Soldier or Great War".
If you would like to get in contact with Ken Smith, his contact information is below:
Address:
Ken Smith
Bayview Strategies LLC
PMB 176
6068 Hwy 98 W #1
Hattiesburg, MS 39402
Email:
kensmith@blackjackinfo.com