Cathy Hulbert
Cathy "Cat" Hulbert Profile and Biography
You may have heard of Cathy "Cat" Hulbert in the poker world but she has had an amazing history and profile in blackjack as well. In fact, she was named "the best female gambler on earth" by Game Show Network and has earned honors all over the gambling community. She was also one of the first women to become a professional blackjack player.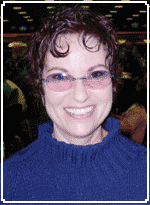 In college, Hulbert used to play card games and built up some good skills there as well. She applied these skills and used them to earn money and pay her way through schooling. After Cathy graduated, she soon got a job at the New York State Senate where her assignment was editing the city fiscal report. Later on, she decided to switch the assignment with one that her former roommate had. Her roommate ended up doing quite well and Cathy ended up with a job in the press office instead, which put her in over her head.
Quitting her job to become a professional gambler
She decided that the work she was currently doing was not for her. Hulbert knew that professional gambling was what she wanted so she quit her job and moved to Las Vegas to train in poker. The trip itself took 15 days just to get there and Cat had brought all $1,600 of her life savings. The first thing she did was get a job as a blackjack dealer. Something happened by chance one night that would change her life forever.
She noticed that one of the players were making strange bets and plainly asked him what kind of system he was trying to use. Little did she know that the player she was talking to was part of "The Czechs", a very famous team involved with card counting. This was the moment she became interested in card counting and became a part of the blackjack team run by Ken Uston, one of the greatest players of all time. It was ironic because she came to Vegas to become a professional poker player and discovered something she never knew existed before.
Cathy Hulbert became a big member of the team and earned a ton of money throughout the 1960s and 1970s. Unfortunately, she was kicked out and banned from over 150 casinos located all over the world. She was also arrested 50 times during attempts to get back into the casino, even while wearing disguises such as a wig and beard and even posing as a man. In fact, she became so notorious and well known that she was banned from all casinos in Asia, even before she set foot in any casino located there. Later on, she competed in the World Series of Blackjack
A new career in slot machines and as a poker player
Hulbert started to look for some other games to get good at. In fact, she became a professional slot machine player and hung out with a bunch of 80 year old grannies to watch various slot machines and head over to the ones that she though were "ready" to pay out the progressive jackpots. It turns out that this game didn't have too much money to be won and there was very little skill involved in the game unlike blackjack or poker. Still, she did win win some money on the slots after all that hard work.
Finally, she moved on to poker, which was her original reason for moving to Vegas. So she played for 3 years getting experience before meeting up with David Heyden and Rick Greider in 1986, two of the most famous players in seven card stud poker at the time. Cathy took the opportunity to learn from them and even teamed up with them for awhile. One thing she realized was that it was an advantage being a women since she realized that men were easily manipulated by her and were easy to read as well.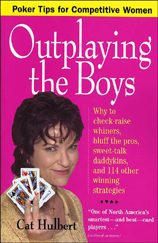 While she was playing, she wrote a book called "Outplaying the Boys: Poker Tips for Competitive Women". Cathy Hulbert was also mentioned in another booked called "Gambling Women" written by Richard Munchkin and she even appeared on the television show "Las Vegas: Gambling with the Pros" featured on Travel Channel. Eventually, Card Player Magazine included Hulbert as one of the best 7 card stud poker players in the world and she was the only women included. She even won a World Series of Poker Bracelet in 1993.
Nowadays, Cathy Hulbert was last known to reside in Torrance California and still plays competitive poker. She also enjoys to write fiction and plays at the Hollywood Casino from time to time with the $40/$80 stakes Holdem. One interesting fact is that she won $47,000 on a bet in Kentucky Derby, which happens to be her largest single payout and it had nothing to do with blackjack, poker nor slots. She also teaches gambling classes for women so that they can learn how to play poker and she also encourages women to get involved.