Ken Uston
Ken Uston - The Big Player
Ken Uston was a huge figure in the game of blackjack and one of the most popular players of all time. He was also a famous author of well known books and a great mathematical strategist. In fact, this man was sometimes known as the "Master of Blackjack". Ken was notorious for his history with card counting and getting banned from the casinos back in the 1970s. He was also famous for filing lawsuits against these casinos as well along with many other interesting events.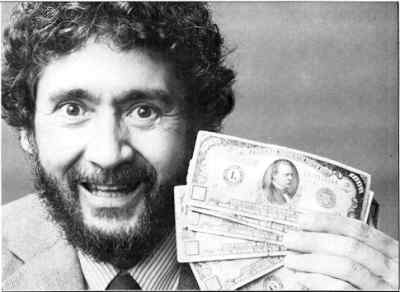 Uston was a Japanese American who was born in 1935 in New York City. He was a very intelligent man with an IQ of 169, which is essentially the intelligence level of a genius. In fact, he was accepted into Yale University at an early age of 16 years old. After graduating, he went to Harvard Business to receive a Masters Degree in Business Administration. During his early history, he was not into gambling as much. In fact, he first became a district manager for a telephone company before moving on to become a manager at a cement business. Eventually he moved to California to work for the Pacific Stock Exchange, where he quickly earned promotions and later became the Senior Vice President of this company.
Uston as the professional gambler and blackjack player
While he was doing stock market business, he decided to head out to the casinos and gamble on the weekends. Not too surprisingly, he became a great card counter at blackjack, which tends to come naturally to someone with a genius IQ and people good with numbers like Ken Uston. Ken began to build a passion for the game and met up with other professional players and gamblers. One of the most notable players he met up with was Al Francesco, another one of the greatest players of blackjack. Ken learned some strategies from AL and learned about Francesco's "big player" style blackjack team, which revolved around card counting systems. Eventually, Ken became one of the big players in Al's team that he started at the time.
Al's system works much like the system used in the movie "21" where the MIT blackjack team (in this movie) would count cards and wait for a high count. In fact, the team actually got this system from Al to begin with. When a high count came up, they would make some signal for the "big player" to come in and make some huge bets. Note that when the count is high, the player has fairly nice edge over the casino and the probabilities of winning will increase greatly for the player.
When Uston first started out, he made $2100 for the team, who collectively accumulated $44,000 over a five day period. Eventually, Uston was promoted to become the "big player" after practicing and proving himself as a spotter after a period of 2 months after the previous big player was caught in taking advantage of the team and ripping them off. There is some controversy involved in this story. Al Francesco and other members of their team claim that Uston did not make as much money as he claimed, at least while playing in this team.
History-making card counting laws in Atlantic City
Ken was a co-author of a book called "The Big Player" where he claimed that he shared success with other members of the team though, including Bill Erb. Ironically, because of this book, Al's team was discovered and banned from casinos in Vegas after publication. Al certainly did not like this and their friendship was damaged as Ken gave away secrets and information that was unknown to casinos. Naturally, many gamblers also did not like this either. It wasn't until 1978 when gambling was introduced to Atlantic City did he form his own blackjack team. It wasn't very long until he got barred from playing at casinos in Atlantic City because of counting cards.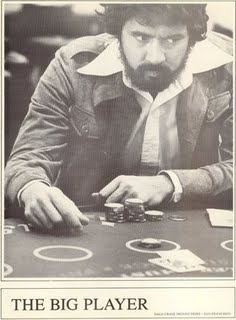 This wasn't the end of the story though. Uston decided to take Resorts International, the casino that barred him, to court. In fact, the lawsuit made its way all the way up to the New Jersey Supreme Court. It turns out that the casino did not have the right to bar card counters from casinos and this is actually the same law that allows card counters to continue to play in Atlantic City! You can thank Ken Uston and give him the credit for making this possible. Casinos in Atlantic City did try fighting back by increasing the number of decks in a shoe, increasing the frequency that cards gets shuffled and doing anything to decrease any potential advantages that players may get through card counting.
Even though Ken was banned from the premises of many casinos, he still found ways to get in and play blackjack without his team. He often wore disguises to get into the casinos but he still used a common card counting practice called bet spreading. Basically he could make the minimum bets when the card count was bad and then when it got high, he would quickly start betting the table maximum. He even got away with doing this on a single deck blackjack game, which is optimal for counting cards, by disguising himself as a worker at Hoover Dam. In Atlantic City, it is told that he made over $350,000 in profit through playing blackjack.
Famous books, informational writings and life
One of his first books of course was "The Big Player" where he co-authored with another guy named Roger Rapoport and gave away many of Al Francesco's secrets. His most famous writing was "Million Dollar Blackjack" in which he wrote about the concept of getting an advantage at the game, card counting and blackjack teams. Also, this book describes some of the card counting systems he invented such as the Uston SS Card Counting System, Uston Advanced Point Count and Uston Advance Plus-Minus Count. This popular book was released not too long before the MIT blackjack team got started. Shortly after, he made a supplemental book called "Ken Uston on Blackjack". There is another blackjack related book that he wrote titled "One Third of a Shoe".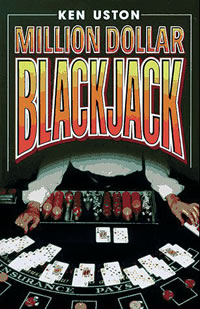 Blackjack was not the only thing he wrote about. In fact, he wrote 10 books related to computer guides between 1983 and 1985 when the home computer was just starting to become big. Before that in the years of 1981 and 1982, he wrote "Mastering PAC-MAN" as well as three other books about old video games during that era. As a matter of fact, his Pac-man book was one of the New York Time's bestselling books.
Even though he made $350,000 in Atlantic City, some say he beat the house and took millions of dollars throughout his lifetime in Las Vegas and casinos around the United States and the world. Supposively, he was once caught by the casino while wearing a disguise and was taken into a backroom and punched out, just like in the movies. One day when he was in Paris France in 1987, he was found dead of a heart attack but many claim that he overdosed on heroin. It was well known that he led a lifestyle that would not make this claim surprising either. In 2002, he was one of the original 7 members inducted into the Blackjack Hall of Fame. This was because of his accomplishments and all of the good things he did for blackjack. Only one or two people each year are entered into this hall of fame and Ken was one of the inaugural and first members. The official website of Ken Uston is located at: Uston.com.