Erica Schoenberg
Erica Schoenberg - Player Profile and Biography
One of the most famous female blackjack players is Erica Schoenberg, also known as blackjack babe or poker babe. In her gambling career, she started out with blackjack but later became multi-class and started to become a professional poker player as well. In fact, she has nearly $1 million in earnings from her life as a professional gambler. She has both very high intelligence and extremely good looks, making her a "hottie" in the gaming world as well as you will see in her profile and biography below.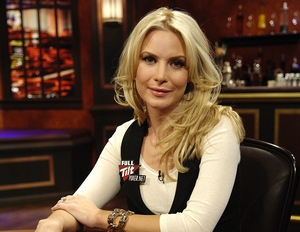 Skilled math wizard and early gambler
Erica was born on March 25th, 1978 and resided in the city of Akron, Ohio where she grew up learning card games by playing along with her family at an early age. At the same time, she was sort of a math nerd and had a great talent when it came to numbers and mathematical knowledge. In fact, she participated in a local math championship and won. So when she played all sorts of various card games with her family, it was no surprise that blackjack became one of her favorites and a later passion.
She also improved her skills by going to the racetrack along with her father and learning about gambling odds as well as just having fun. In fact, Erica Schoenberg quoted at one point that she would make bets with her father and gamble on just about anything, including betting on flipping coins. Although, maybe not anything like crazy Brian Zembic would do.
After high school, Schoenberg went to college and continued building up her skills in blackjack and poker. Eventually she started to become competitive and begin starting her career as a professional. She earned a degree in Theatre and started to work on a variety of other job positions such as modeling, personal training and an instructor of kickboxing. Erica even got involved with professional beach volleyball tournaments.
Schoenberg trains with MIT blackjack - Professional blackjack and poker player
Sometime after college, she joined her first competitive blackjack tournament where she became successful. Erica was also surprised by this and really got hooked on it. In fact, some of the members who were involved with the famous MIT blackjack team gave her some training. Given that a lot of skills in mathematics are used in card counting, she would be a perfect candidate to learn card counting. So she kept on honing her skills and became a true professional at the game.
As time passed, Erica Schoenberg became interested in poker, especially when Texas Holdem became big and after she played the game with Phil Hellmuth and some friends. As you can see from the World Series of Poker, there is a ton of money here and lots of celebrities and opportunities to appear on TV. In 2005, she became extremely dedicated to practicing the game and it turns out that she became extremely successful at poker between 2006 and 2010.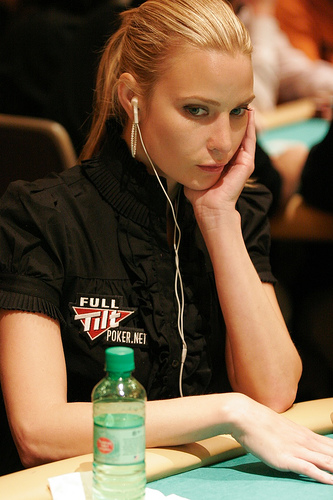 In 2006, she played in the Five-Star World Poker Classic and game in 16th place for a major $118,000 prize. This was her first appearance at a major live tournament. Also in 2006, she came in 69th place at the World Series of Poker out of more than 1100 people and 16th place at the World Poker Tour Championship for $25,000 in Bellagio. At the end of 2006, Schoenberg competed at the Five Diamond World Poker Classic where she finished in 5th place for a nice $40,000.
Erica also appeared in a number of other live tournaments including WPT season 4 of "Ladies Night Event", which included Jennifer Tilly. In 2007, Schoenberg game in 3rd place for the $1,500 no limit Texas holdem event at WSOP. Again in 2007, she finally came in first place and won a no limit holdem $2,500 tournament at the Mandalay Bay Poker Championship with a massive $105,875 grand prize.
Poker wasn't the only live tournament game she played in either. In fact, she participated during the 3rd season in the World Series of Blackjack where she competed against players such as "Razor" Rob Boisvert, Randall Joyce, Scottie J. Black and Marshall Lafferty. She did so well against these players that she came in second place, just short of "Razor" Rob Boisvert. Erica also participated in the all-exclusive Ultimate Blackjack Tour, which includes many of the greatest blackjack players on the planet, many of which are celebrities because of their fame, impressive skills and contributions to the game itself.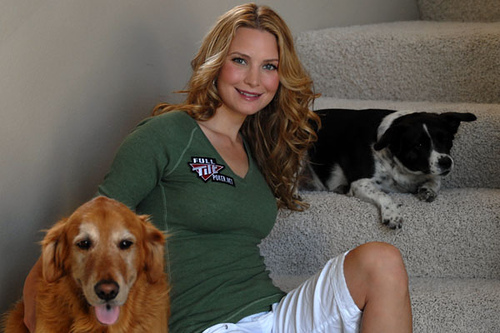 Currently as of 2010, Schoenberg has won over $750,000 as a professional gambler and she is still running hot. Early on, she was the first professional poker player to be asked to represent a popular online poker room called Mansion Poker At the time, she used the online user ID "str8flushin". As time went on, she became a Full Tilt poker room player where she plays poker online as well. Besides playing poker and blackjack, she can still be found playing volleyball now and then, watching Ultimate Fighting and walking with her dogs in Las Vegas.