James Grosjean
James Grosjean - Blackjack Player Profile and Bio
James Grosjean is one of the names people speak of when they talk about professional blackjack and card counting. He is a legend not only because of his skills at the table but also his colorful history with Griffin Investigations and the lawsuits involving casinos. James is also a genius at mathematics, odds and logic behind card counting and blackjack. He is also an author and has experience in many other games under his profile.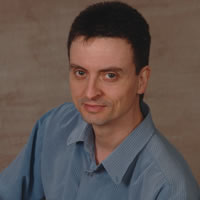 Early mathematics career and "Beyond Counting" book
The biography of James Grosjean starts when he was attending college as a graduate school at the University of Chicago. Of course he was earning his advanced degree in mathematics, but this is where he also began to practice blackjack on a professional level. It was in his nature to calculate numbers quickly and easily even from a young age, which made him ideal for card counting. In fact, it is told that when Grosjean first played blackjack, recognized right away that he could use mathematics to take advantage of the dealer's hole card when they were playing.
As a graduate student, Grosjean decided to research and investigate the mathematical phenomena of advantage blackjack. He took notes, summarized his findings and later wrote a popular book in 2000 called "Beyond Counting: Exploiting Casino Games from Blackjack to Video Poker". The book became extremely popular and so James became well known in the gambling world because of his card counting guides. He was also involved with computer programming and making software for blackjack with Keith Taft.
This book mostly contains card counting analysis, hole cards, shuffle tracking and other mathematical techniques. Besides technical information, he also included guides on psychology and mental game, where were valuable for picking up clues from the dealer. James even had some guides for partner play, spotters and cheating concepts. The book itself was easy to follow and also included small quizzes or tests in order to get readers to think about what they would do in certain situations, or even get them to come up with their own strategy. Beyond Counting also included information about other games such as 3 card poker, Caribbean stud, craps, big six wheel, let it ride and more. Best of all, you didn't need to know much about math in order to understand most of the important topics.
Blackjack "civil rights", legal battles and Griffin Investigations
If you have ever heard about James Grosjean before, you might have known about him because of his world famous legal battles and his work on "civil rights" for blackjack players and card counters. Some big lawsuits involved Caesar's Palace casino, Imperial Palace, Griffin Investigation and the Nevada Gaming Control Board.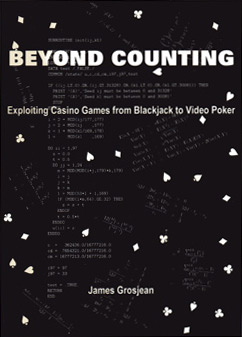 One the first legal issues involving Grosjean was in 2000 at Caesar's Palace after he and a friend were detained for 5 hours at the casino. They were obviously accused of being cheaters and getting caught doing card counting techniques. They were held at the Clark County Detention Center for a day before they released the friend. James on the other hand was kept for nearly 5 days longer. James claimed that the dealer was inexperience and exposing the hole cards in a sloppy manner but the casinos could come up with no proof of this nor that the duo had done anything wrong.
Some weeks later, another event took place at Imperial Palace casino where guards in control of security got physical with him. Grosjean claimed that during the incident, he wasn't even playing blackjack and just walked in to look for a table to play at, but noticed some guards watching him. He then decided to leave but the guards followed him, put a hand on his chest and blocked him from leaving, and then handcuffed him. Grosjean was then taken to a backroom holding cell. Next, he was told to empty his pockets and was then interrogated and threatened.
Grosjean later took the case to court in 2005 where they found that Imperial Palace violated his rights. Originally, he was awarded $500,000 due to punitive damages but a statutory limit brought that figure back down to $300,000. James also won $99,999 for actual damages. He was also reimbursed for legal costs, fees and $18,000 in interest on top of the $399,999 winnings from the jury verdict.
Another lawsuit included Griffin Investigations and Caesar's Palace casino for that incident back in 2000 against James Grosjean and his friend, Michael Russo. The jury determined that Caesar's Palace improperly detained and arrested the individuals due to information that was given by Griffen Investigations accusing them of being cheaters. So in July of 2005, Grosjean was awarded a judgment of $25,000 for actual damages and a punitive damage award of $10,000 while his friend Russo was awarded $15,000 for punitive damages and $25,000 for actual damages. The legal costs, defamation and damages from this lawsuit caused Griffin to file for Chapter 11 Bankruptcy on September 13th of 2005. The names of his attorneys are Thea Sankiewsicz and Bob Nersesian and there is even further legal issues pending for 4 more agents of the Nevada Gaming Control Board.
Induction into Blackjack Hall of Fame - Later career highlights
Griffin Investigations was a huge enemy of card counters because of their tactics to keep track of information on card counters, cheaters and bad players as well as trying to keep them out of casinos. Because of the lawsuits brought on by James Grosjean, the company collapsed and hailed a huge victory for professional gamblers and blackjack card counters. Soon afterwards, he was inducted into the Blackjack Hall of Fame in 2006 due to his extraordinary accomplishments and contributions to the world of blackjack. Only the all time greats are allowed into this exclusive club. In fact, he is also the youngest person to be inducted to the hall of fame.
To this day, James Grosjean is still playing blackjack at various places around the world and sometimes online. Still, he has to watch out for being thrown out of casinos, so he dresses up in disguises and continues to be careful of being caught. He was also given entry into the famous Ultimate Blackjack Tour along with many of the greatest players to play the game.