Big Chuck Gorson
"Big" Chuck Gorson - Blackjack Profile and Biography
A famous name in the world of blackjack is Big Chuck Gorson. One thing that makes him stand out is the fact that he is 6 foot, 8 inches tall (nearly 7 feet tall!). His professional gambling and blackjack career is just as impressive. In fact, he earned six-figures or over $100,000 every single year for 15 years straight by being a skillful professional gambler. In his profile, there are another of other games that he was skillful at and he has quite an impressive biography.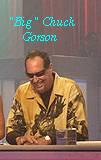 Gorson's life as a professional gambler and blackjack player
Before Big Chuck Gorson caught the gambling bug, he was the owner of a chain of agencies that dealt with modeling and talent, which were quite successful. This was pretty much his day job until sometime in 1989 at the Aladdin Casino. Gorson was participating in a major blackjack tournament there and ended up winning $50,000. After this massive win, he sold his modeling business and became a professional gambling. So now his full time day job was playing blackjack and other casino games for a living.
Blackjack was one of his favorite games since it was the one game that got him started. Although, he was interested all sorts of different casino games including craps, roulette, slot machines and baccarat. Speaking of baccarat, he won a tremendous $175,000 at one of the most famous casinos in the world, the Trump Marina. In fact, his winnings were so impressive, Donald Trump himself personally issued the check to Chuck Gorson!
Some other smaller winnings included a fairly nice $25,000 prize when he played blackjack at another famous casino called the Tropicana. Craps is another game with extremely good odds and he won $12,000 playing it over at MGM Grand. At Seascape Cruises, he stacked up another $10,000 by playing poker and at the Resorts Casino, he won a triathlon tournament of sorts with a $25,000 prize where he played three various games including blackjack, roulette and slots.
Big Chuck Gorson on Television and Reality Shows
You may have heard about Chuck on TV because he made a number of appearances on reality shows and talk shows. He was featured on a really popular show called "The Casino", which was based at the Golden Nugget Casino. At the time, the casino had new owners and management, so he wanted to take advantage of them by bringing in $75,000 to gamble on blackjack. As you might already know, the only way to profit at casino games like blackjack is to count cards or develop some sort of skill that professionals use. Security at the casino was watching him closely because he knew how to count cards.
As you might remember, Gorson was drinking and lost his senses a little bit when he was playing. He became a typical crazy gambler at that point by hitting on and flirting with many of the women passing by. He was also waving money around and coming up with interesting pick-up lines to impress the ladies with. In fact, he did pick up a nice looking blonde but quickly became distracted by a mysterious woman wearing red and happened to have a deep voice. They both went up to a room but the people viewing the show on TV found out that the mysterious woman was actually a drag queen or a guy dressing in women's clothes. The cameras didn't follow them into the room so we don't know what happened.
Later on in the show, Gorson returned to the table and he found out from the people around him that the person he was with was actually a man. Chuck sort of hung his head in surprise and everyone ended up laughing it off. Since Gorson was doing so well at blackjack all that time, the casino was happy to get him away from the table so he would stop taking their money.
There were a number of other shows that "Big" chuck Gorson appeared on including "The Vegas Show", "Howard Stern Show", "Mark and Brian Show", along with other radio and talk shows. One of his most impressive appearances was on "The Ultimate Blackjack Tour", which aired on CBS and allows only the best players in blackjack to attend. One of his more notable events in the tournament was when he beat out Henry Tamburin, who is involved in Blackjack Insider Newsletter as a writer and editor. He also played against other highly famous and professional blackjack players such as Ken Smith, Michael Castellana, Alex Brenes, "Miami" John Cernuto, "Hollywood" Dave Stann and Michael Postel. The only problem was that "Big Chuck" Gorson was the first person to be eliminated and dropped out.
Gorson was also involved in writing his own book called "From Fish to Whale". This book was basically a biography of his life and a story about his gambling activities. Also included in the book is a short guide to teach different skills to players and make them better at casino games. Unfortunately, Gorson passed away sometime in October of 2007 but he will be remembered as one of the legends of professional blackjack and the sport of gambling.